We're driven by curiosity and a passion for research.
We love to wrap our heads around challenges in new ways. After all, that's the only way we can bring about change. We question the status quo and think about how we can improve it.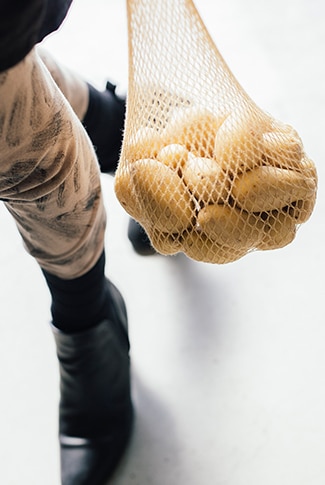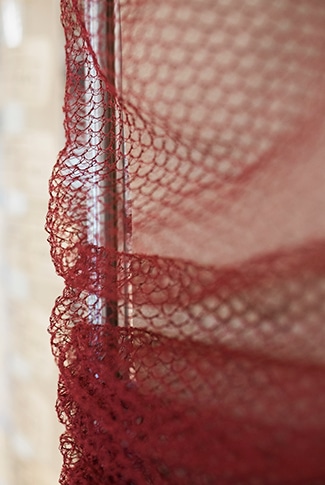 For the past 25 years, we have been researching biogenic materials in search of the best solution – for both mankind and the environment. Our long-standing experience not only explains why we are market leaders, but also makes us the leading Centre of Excellence for textile packaging. The best packaging nets made from spun-dyed fibres are made by VPZ. Our R&D team is supported by a network of researchers, textile engineers, mechanical engineers, designers and innovation partners. This enables us to keep coming up with innovative packaging concepts using cellulose fibres, which we develop and bring to market with our usual expertise and reliability.
This is valued as much by supermarket chains and international trading partners as it is by local farmers and direct marketers. Our solutions are easy to implement, having been designed with practical applications in mind. This explains why our tube netting can be used on existing machines, without the need for any major investment or retrofitting.
NATURALLY CURIOUS
New product development is second nature to us. Or rather first. We want to get things moving and prefer to develop our products in-house, continuously exploring new, biogenic solutions.
PERFECT NET-WORKERS
As a Centre of Excellence for Textile Packaging, we drive knowledge-sharing among experts from diverse sectors. Networking with others leads to innovative packaging solutions and happy customers.
IMPLIMENTATION ORIENTED
Packaging isn't the only thing on our minds. We develop practical solutions and figure out the best way to present YOUR brand and products in the marketplace.
UNIQUE
You have a logo or a design that's ready to go? We have a design team who makes sure that our customised packaging solution really works for your company. We can provide special shapes, colours and pack sizes to complement your unique corporate image.
How tube netting
took over
the world
Organic potatoes
in
plastic bags?
Not a good combination, in our opinion. So the VPZ team went in search of partners who would help drive our research and development forwards, with the aim of developing and manufacturing the first cellulose tube netting. And since then we know – organic potatoes in plastic bags?
No longer
a necessity!
The manufacturing of packaging has been focused on plastic for far too long. A material that has never let fresh fruit and vegetables breathe – and has never done them justice as a packaging. We wanted to move away from plastic, towards a packaging that is compostable, recyclable and made from biodegradable materials – all with the aim of protecting our fossil resources. And this is how VPZ came to develop tube netting made from the LENZING™ Modal cellulose fibre. The raw material used for PACKNATUR® Cellulose Tube Netting is sourced from local beechwood forests. The Austrian company Lenzing AG transforms the beechwood, which is recovered from forest thinning, into modal fibres in compliance with the strictest environmental standards by applying CO² neutral processes.
These fibres form the basis of our PACKNATUR® Cellulose Tube Netting, which has been used by many leading international supermarket chains for a good number of years now. And even though we've come a long way since netting the first organic potatoes, there is still a lot to explore! Our Centre of Excellence for Textile Packaging is continually exploring new fields of application and potential uses for our cellulose nets. We're mulling over potential combinations with other packaging materials, considering the use of sacks (with or without a drawstring) for pre-packaging or carrying goods, and reusable sacks for hand-picked produce or for storage – as well as solutions grip-protection, attractive designs, novel marketing initiatives, exhibitions and events.
Click here for further information about our revolutionary innovation, PACKNATUR® Cellulose Tube Netting.
OTHER PACKNATUR® PROJECTS:
Environmentally friendly.
Economical.
Attractive.

WHY MAKE THINGS MORE COMPLICATED?