Picked by hand.
Packaged by nature.

A new look for fruit and vegetables. The reusable Packnatur® Pick Pack cellulose net bag made from FSC®-certified beechwood is the latest fashion for fruit and veg. Made from 100% wood, Pick Packs help their contents stay fresher for longer.
The bags are manufactured exclusively using wood sourced from the thinning of local certified beechwood forests. Beechwood forests regenerate naturally and do not need to be replanted. Both the netting and the drawstring have been designed from FSC®-certified cellulose fibre. Lenzing AG, the leading global manufacturer of environmentally friendly cellulose fibre, produces the LENZING™ modal fibres in their Austrian factory,
in compliance with the strictest environmental standards and with CO² neutral processes.The handy wooden toggle is also made from FSC®-certified beechwood and turned with great attention to detail in a local workshop.
Further information about the material we use and the sustainability of our products can be found here.
It couldn't
be simpler.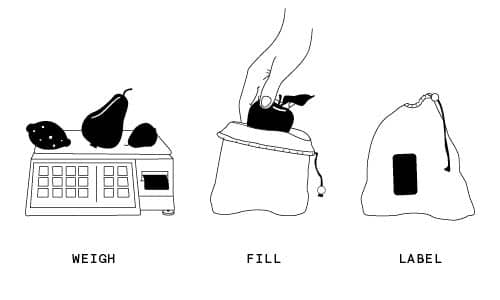 Weigh your fruit and vegetables without the net bag, stick the label on the outside and place your fruit and vegetables inside – mixing and matching as you go! You'll find the label sticks perfectly to the netting, and your fruit and veg will be able to breathe in this moisture-regulating, reusable bag. In the battle of the bags, the Pick Pack leaves plastic tie bags standing in the fruit and veg department!
THE PICK PACK AT A GLANCE:
Naturally
unique
For orders above 5,000 pcs.
The Pick Pack can be spruced up to make it as individual as the vegetables inside. Your fruit doesn't always have to be dressed in black or looking wonderful in white – the colour, dimensions and weaving pattern can all be customized to create the perfect look. The woven label can be personalized with your corporate logo. Our team is delighted to develop a unique packaging design for our customers,
including everything from the bag itself to the outer packaging, as well as an attractive POS display. For example, we can supply Pick Packs in sets in a pretty cardboard pack, as single bags in a mailable pillow box, with a sleeve or with a hang tag.
The Pick Pack can be customised for orders of 5000 bags or more.
Naturally ingenious!
COLOURS

black

brown

onion yellow
potato yellow

purple red
red

red orange

lemon yellow
ecru
white
Pick Pack – permanently in stock
in the following standard options:
TBEN1
Description
Packnatur® Cellulose Net Bag, 28 x 32cm, plain, with a Packnatur® Label
Quantity / unit
250 loose units in a cardboard shipping box
Minimum order quantity
250 units
Price
€ 1,30 each
TBVN0
Description
Packnatur® Cellulose Net Bag, 28 × 32 cm, plain, with a Packnatur® Label, in a printed 3-pack box
Quantity / unit
40 x 3-packs in a cardboard shipping box
Minimum order quantity
40 packs (= 120 units)
Price
€3.99 per pack
Our customer service team looks forward to hearing from you:
Tel: +43 316 272568-0, email: office@vpz.at
CAST YOUR NETS WIDE!
Whether the Packnatur® Pick Pack plays a key role within your business or is just a valuable accessory, it underlines your company's take on sustainability. The Packnatur® Pick Pack is something that your customers, employees and followers can actually use – while you put your brand message across AND do a good turn for the environment. That's net added value, literally.
BRINGiT brings it
"You don't need to become an eco-warrior overnight.Take it one product at a time, and work your way up," says Deb Singer, the leader of the plastic bag ban at Whole Foods and co-founder of BRINGiT reusable shopping bags. "Starting with one thing makes it more palatable to make other changes."
Marley Spoon delivers recipes and fresh ingredients in their mealkit to people's homes. Along for the ride: our Packnatur® Pick Pack.
Good news for all the home chefs out there! Marley Spoon is partnering up with Packnatur to supply their customers in Dutch and German-speaking countries with a sustainable option to keep their fresh ingredients from their mealkits in order. The Packnatur® Pick Pack net bag made from food-safe and FSC® certified LENZING™ Modal Color fiber is going to be included in some Marley Spoon meal kits customers will receive this year.
---
"We are delighted to have launched the 'multi-bag' – made from FSC®-certified beechwood cellulose – which we have developed in cooperation with VPZ Verpackungszentrum GmbH. The multi-bag is a very innovative, sustainable product that our customers have welcomed with open arms. VPZ has proved to be an innovative, creative and competent partner with whom we have been involved in a continual, year-long intensive development and manufacturing project. They carried out the whole process extremely professionally – from the initial concept sketches right up to the entire supply chain. It was great fun working together with VPZ and we look forward to collaborating on further projects in the future."
Guido Fuchs, Sustainability Project Manager, Coop, Switzerland
http://www.coop.ch
Plastic is
just so
last season!